Cultural Society
Students participate in various cultural and cross-cultural events held in the university. There being a large number of international students in the university, it is to the credit of the university that it celebrates cross-cultural festivals by hosting foreign students, thereby promoting friendly relations and understanding, creating a feeling of one international family and brotherhood.
The Cultural Society of Sharda University is formed of nine clubs, where each of the clubs will be operated by student coordinators and Board members under the supervision of faculty coordinator. The cultural society will be governed overall by the following functionaries:
The Dean Student Welfare
The Associate Dean
Administrative Officer
Faculty Advisors of Cultural Society
There are Nine clubs in the Cultural Society
Organogram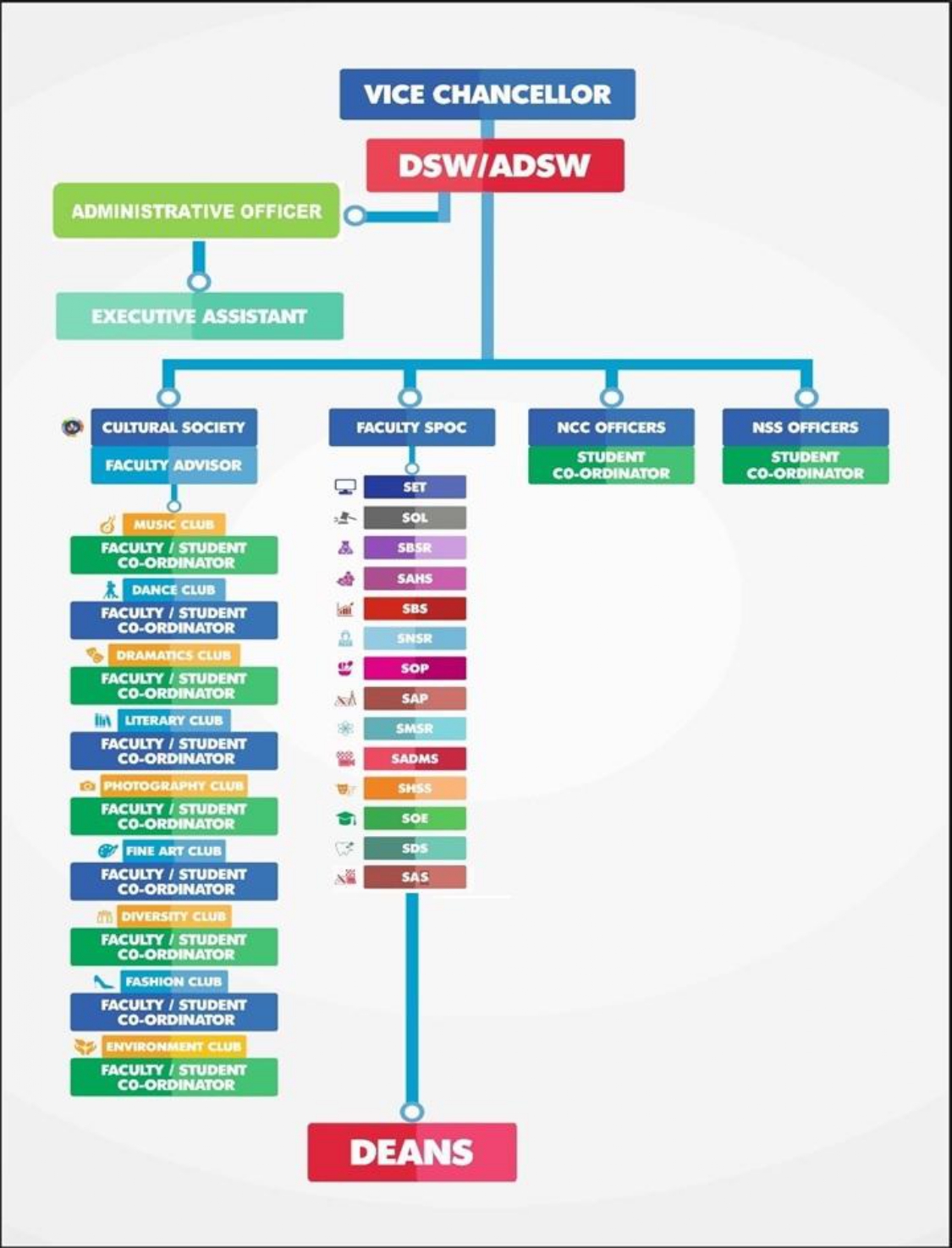 Conclusion
Sharda University campus is vibrant with sports and cultural activities throughout the year. There is rarely a dull moment in the lives of its students. Fun while you study is what makes Sharda university students increasingly open, free thinking and confident lads ready to face the world.
| Club Name | Area mtr sqr | Year Of Establishment | User Rate (Per Day) |
| --- | --- | --- | --- |
| Dance Club | 143 (Activity Centre) | 2014 | Depends on the activity (150-180) |
| Music Club | 103 (Activity Centre) | 2014 | Depends on the activity (150+) |
| Dramatic Club | 118 (Activity Centre) | 2014 | Depends on the activity (140-150) |
| Fashion Club | Functional activity | 2016 | Depends on the activity (100-120) |
| Literary Club | Functional activity | 2016 | Depends on the activity (100-120) |
| Photography Club | Functional activity | 2015 | Depends on the activity (70-100) |
| Environment Club | Functional activity | 2016 | Depends on the activity (60-80) |
| Fine Arts Club | Functional activity | 2015 | Depends on the activity (130-150) |
| Diversity Club | Functional activity | 2016 | Depends on the activity (200-300) |
| Ceremonial Lawn (behind block 2 | 2207.15 | 2014 | 1000 |
| Temple Premises (Near block 22) | 366.02 | 2012 | 320 |
CLUBS OF CUTURAL SOCIETY
Dance Club
Position
Name
Email ID
Contact No.
Faculty Coordinator
Dr. Venus Dillu
venus.dillu@sharda.ac.in
9971383364
Dr.Nimmi Agarwal
nimmi.agarwal@sharda.ac.in
9810777226
Music Club
Position
Name
Email ID
Contact No.
Faculty Coordinator
Dr. Brinda Chowdhari
brinda.chowdhari@sharda.ac.in
9718321162
Dramatics Club
Position
Name
Email ID
Contact No.
Faculty Coordinator
Mrs. Yashodhara Raj
yashodhara.raj@sharda.ac.in
8130621456
Diversity Club
Position
Name
Email ID
Contact No.
Faculty Coordinator
Dr. Shanthi Narayanan
santhi.narayanan@sharda.ac.in
9811597665
Fashion Club
Position
Name
Email ID
Contact No.
Faculty Coordinator
Dr. Alankrita Choudhary
alankrita.chaudhary@sharda.ac.in
9717244575
Dr. Kapil Choudhary
kapil.choudhary@sharda.ac.in
9560387206
Photography & Media Club
Position
Name
Email ID
Contact No.
Faculty Coordinator
Md. Ashraf Ali
ashraf.ali@sharda.ac.in
9582098269
Literary Club
Position
Name
Email ID
Contact No.
Faculty Coordinator
Dr. Richa Tomar
richa.tomar@sharda.ac.in
9266752701
Dr. Prachi Priyanka
prachi.priyanka@sharda.ac.in
9818285289
Environment Club
Position
Name
Email ID
Contact No.
Faculty Coordinator
Dr. Kuldeep Dhanker (Faculty Coordinator)
kuldeep.dhanker@sharda.ac.in
9899123803
Fine-Arts Club
Position
Name
Email ID
Contact No.
Faculty Coordinator
Dr.Rachana Bansal
rachna.bansal@sharda.ac.in
8826803330