Career Counseling
The Career Counseling Centre of Sharda University has been set up to provide in-house support and counseling sessions to combat the professional/career related snags of students. CCC helps them to road map the future journey of their dream career. The students at different stages of life get stuck in mazes to find the successful career option as per their abilities and the skill sets they own. CCC helps them to illuminate their path in such difficult situations by providing guidance and helping them to acquire the skills as needed.
Constitution-
Dr. Geeta Durga, Assoc. Prof., Dept. of Chemistry & Biochy. (SBS&R)- Chairperson
Dr. Parul Saxena, Asstt. Prof., Dept. of Mgt. (SBS)
Ms. Ranjeeta Singh, Asstt. Prof., Dept. of EEE (SET)
SPOC (Single point of Contact) from Schools
Office Bearer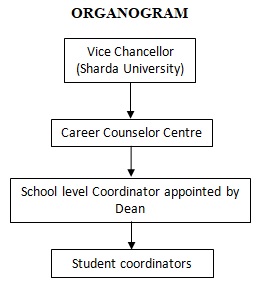 The team will meet once in a month to review the progress and schedule of activities of career counseling centre and get feedback at the end of the academic session.
Objectives:
To conduct the survey on student's needs and suggestions regarding Higher Studies/Language related studies.
To motivate and guide students for higher studies and competitive exams.
To form various clubs like: Higher studies club, Civil Service Exams Club, Language studies club, etc. through e registration. (All the students can register through e-registration available in the university website).
To effectively use the network of Sharda University Alumni Association for promoting them to provide the guidance lecture or higher studies to motivate our students.
To organize sessions on profile building, skill development with the help of Sharda Skills.
To organize School / department wise events on higher studies and coaching (external expert/peer).
To appreciate and recognize the toppers in higher study exams, competitive examinations and Admission offers from the Universities in abroad.
 
Some of the Suggested Activities:
Organizing sessions for GRE, TOFEL, TOEIC, GATE, CAT, IELTS inside the campus with the help of different departments and schools of Sharda University.
Conduction of Mock Tests for higher studies and various competitive exams among students to promote higher studies.
Provide study materials to help the aspirants for higher studies.
Providing learning resources for aspirants of UPSC exams.
Invite eminent speakers to interact with our students about examination preparation, scheduling study hours and attending the exam and interviews.
Coordinate with School of Humanities and Social Sciences in organizing language program on German, French and special classes for Hindi and English communication for the students in need.